Social media is so important in today's lives. We use it on a daily basis but as business owners, we take it for granted.
Facebook
Platforms such as Facebook have now been configured to look like a mini website, I think anyway. I'll show you…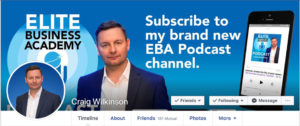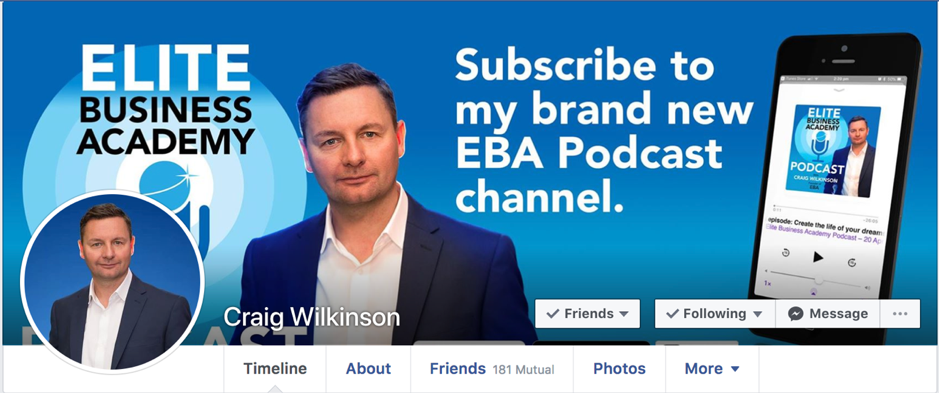 Just like the top of a website, you have a banner, in this case a cover photo. Use this to put something relevant on, but don't put any contact information onto it and I'll explain why later. Put an image on of something relevant to your industry or what you do e.g. an architect, use an image of a house you designed or a painter/decorator, a living room you have decorated. The profile picture should be a professional headshot. You don't have to pay for a headshot, just use a plain background, clear view of your face and take the picture on a smart phone.
Whatever you chose you should use these pictures on all your social media sites, which I will go into, but let's concentrate on Facebook for now.
Mini Website
The introduction on your profile should reflect what you do but not in a sales way; e.g. you help people do… you help certain people who… you're the founder of… etc. This way people know instantly what you do and why they should be your friend on Facebook. In this section you can edit things like where you work, what business you own, where you live, your relationship status, etc.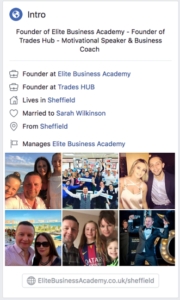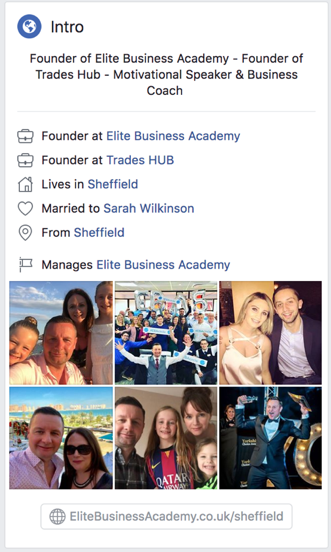 Fill this out as much as you can as it gives people, who are viewing your profile, the confidence that you're genuine. People are wary of profiles who block everything and you can only see the name and one picture, they're cautious of these types. So fill this section out as much as you can, it also gives them an indication of where you're based so they can seek you out if they need your services.
There is also an option to edit the pictures, you can now choose 8 fixed pictures that you can chose to go at the top of your profile. Chose a mixture of business and private life e.g. family, holidays, pets, with a few project photos, completions etc. This will also reinforce the idea that you are a business person and also a real person. It gives you the option to also link all of your other social media platforms and websites to attach to the bottom. Always attach your website as at the end of the day, this is your ultimate sales tool. This is where you want people to end up, so make it easy for them. People like easy, if you make it difficult they may give up trying to find out more about you. Take advantage of the fact that people are nosy.
See, just on Facebook alone you can brand yourself properly as a reputable business person. This needs to continue across all your social media platforms.
Other Social Media Accounts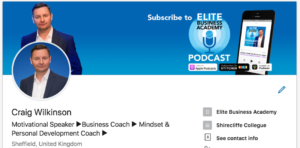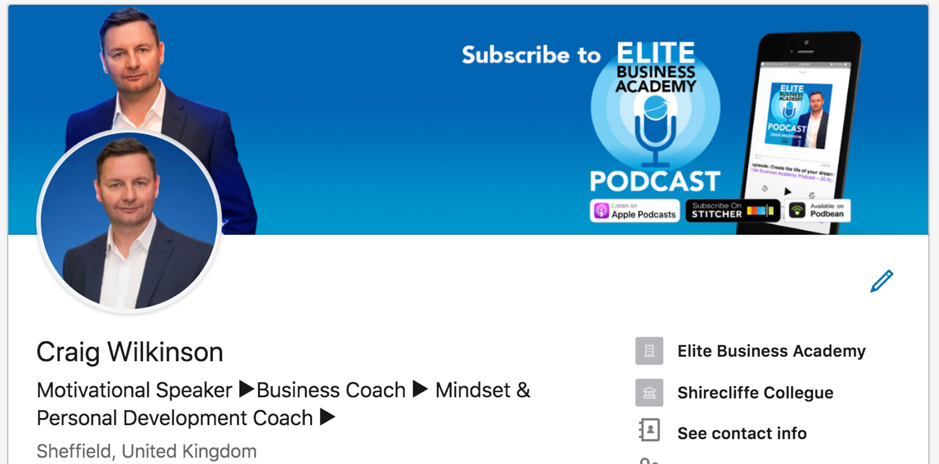 These screen shots are of my personal accounts on Twitter and LinkedIn and as you can see, they are the same across all platforms. This makes it easy for customers and clients to find you on social media and makes you look professional. If you can, try and coordinate the images you use with the images on your website so that everything is consistent and people can find you easily.
Why would you want to make it hard for your potential or ideal clients and customers to find you? Follow my advice and make it easy. Trust me, it works.